Challenge Coins – Flip Coins
---
History about Challenge Custom Coins
War is pain. War tears apart lives and minds. In the midst of World War II, a squadron leader was looking to boost the morale of his group, so he commissioned some custom made coins which bore the insignia of their unit. This simple symbol of fellowship ended up saving the life of one of his pilots, and changing military tradition for years to come.
The story goes that the pilot was shot down, and apprehended by German forces. They stripped him of all of his belongings, and left him with nothing except for a leather pouch tied around his neck, which contained the coin gifted to him by his commanding officer.
Against all odds he managed to escape. He fled into France where he attempted to fit in with the locals. The French people of the area did not recognize his accent, and therefore feared him to be a German spy. He was once again apprehended, with no way to prove his identity. Consequently, execution was imminent. In an act of final desperation he showed his coin to his captors. A French commander recognized the insignia of his unit, halted the execution, and instead gifted the man a bottle of wine.
How The Military Uses Coins Today
Today the American Military still remembers this event, and commemorates it with the tradition of Challenge Coins. Commanding officers will gift challenge coins for deeds of bravery, excellence, and accomplishment. It is an incredible honor to receive one of these coins.
The other side to this tradition is the Challenge, typically occurring in a bar setting. If one officer puts their coin on the table, they are challenging the others. All other attending officers are expected to have their coins. If anyone is missing his, he must purchase the next round of drinks. If everyone has their coin, then the challenger is responsible for the next round.
This fun and richly historic tradition is now making it's way outside of the military. Custom made coins are being employed throughout all walks of life as a way to announce where your loyalties lie.
How Challenge Custom Coins Are Made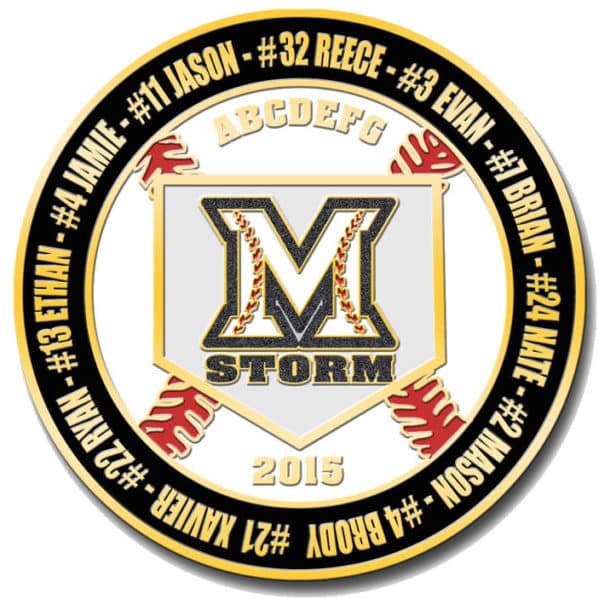 The Pin Creator puts meticulous care into forging these coins. They are die cut with deep etching to ensure that they are striking even from a distance. A variety of different metals are available, and you can also choose to have the coin painted with high quality epoxy paints. After being painted, they will then be fired to ensure a beautiful durable finish that will last a lifetime. Your team members will be proud to carry these uniquely symbolic pieces of tradition and history with them for years to come.
Get a FREE Quote for your Challenge or Flip Coin Today